Sprinting by definition is "running over a short distance at the top-most speed of the body in a limited period of time." 
Sprinting by far is not an easy exercise to do, at least when you're doing it properly with adequate training under your belt. Sprinting is a high-intensity, vigorous training exercise that utilizes a lot of cardiovascular and muscle energy. Sprinters require explosive strength, especially in the lower parts of their bodies. 
Getting from zero to hero with sprinting takes years of hard work, dedication, training as well as resilience to stick to a complete training regime without falter. In this post, we look at some of the best sprinters of our lifetime and they are nothing short of inspirational. 
The Top 10 Best Sprinters Of Our Lifetime
1. Usain Bolt
It is by no surprise that Usain Bolt tops the list of the greatest sprinters in the world. He currently still holds the world records for the 100m and 200m sprint respectively with the times outlined below:
100 m: 9.58 – The current world record.
200 m: 19.19 – The current world record.
2. Carl Lewis
Carl Lewis is another champion who has taken 6 gold medals and 6 world championships under his stride. He is an animal that was renowned as one of the best sprinters in the world. Below are his 100m and 200m sprint run times, which is nothing short of impressive:
3. Yohan Blake
Running alongside Usain Bolt his former teammate Yohan Blake is another impressive sprinter, if he was born in another era to Bolt he would have had a lot more championships under his belt than he currently has. His 100m and 200m sprint times can vouch for that:
4. Michael Johnson
Michael Johnson was an extremely adaptable and quick sprinter from his time. In total Michael has captured 4 Olympic gold medals and 8 world championships. Michael has remained prominent in the space working for BBC and appearing at quite a few events, he has done a lot for the running space and with a record to boast, his times are also impressive:
100 m: 10.09
200 m: 19.32 – Currently the 3rd best of all time
5. Tyson Gay
Tyson Gay is an American track-and-field superstar and the quickest in American history. He is a household name and has an impressive track record to boast as well. He has 1 Olympic silver and 3 World Championship golds. Below are his best times:
 6. Justin Gatlin
Justin Gatlin who has 1 Olympic gold and 3 World Championship golds is another superstar sprinter who now helps new-age athletes reach a new mental edge in their careers through motivational speaking and also talking of his own experiences. Below are his best times:
7. Jim Hines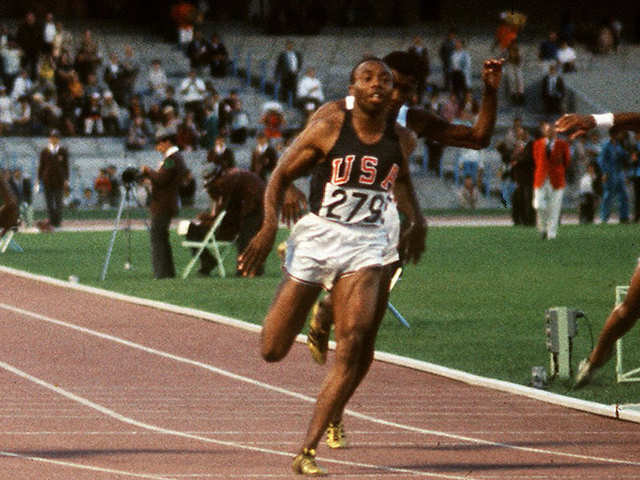 Jim Hines is an impressive sprinter who was the first to break the 10-second barrier as a human being and he officially held that record for an impressive 15 years. He has 2 Olympic gold medals. What is unique about Jim is that he was also an NFL player.
8. Maurice Greene
Maurice Greene is a former American track-and-field athlete who has won 4 Olympic Gold medals and was the 1999 indoor world champion, he held a record of a 100-m sprint at 9.75 seconds which was later broken. Below are his best times:
9. Jesse Owens
Jesse Owens is a former American track-and-field athlete as well as 3 Olympic gold medals. Owes is recognized as one of the greatest due to the fact that he was working dead-end jobs in his early life and later rose to the occasion with a passion for running, he is a true inspiration to many aspiring Americans. Below were his times, and remember Jesse Owens was from a period in the 1930s, way before humans broke the 10-second barrier.
10. Asafa Powell 
Asafa Powell has 1 Olympic gold medal and 2 world championships under his belt. Asafa's career was cut short due to testing positive for a banned stimulant that was later discussed as caused by his then trainer Chris Xuereb.
100 m: 9.72 – Currently the 3rd of all time
200 m: 19.90 
Conclusion
Reaching or breaking the 10-second barrier is no easy feat, whilst athletes of the current modern age have continued to push the boundaries in order to be able to compete sprinting is definitely not for the faint-hearted. These athletes have all shown guts, courage, and determination to get to where they have and entered the record books for a lifetime.
Marko Rakic is a trail runner and fitness enthusiast from Sydney, Australia. He is the lead writer for The Ultimate Primate and believes the best way to live a happy life is through constantly challenging yourself.